Accidental City: The Transformation of Toronto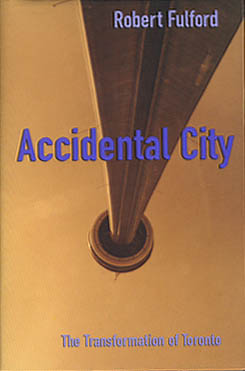 Accidental City: The Transformation of Toronto was published in Canada by Macfarlane Walter & Ross in 1995 and in the United States by Houghton Mifflin in 1996.
Publisher's description:
Toronto is one of the world's great cities and the commercial and cultural capital of English-speaking Canada. But it is also a classic example of a modern city that has sustained and withstood every kind of urban force. Robert Fulford, in this compelling book, recounts the exciting story of the postwar transformation of an aging city. In the 1950s Toronto was a gray lady -- "a good place to mind your own business," as Northrop Frye said. Built in a strange and challenging ravine-threaded landscape on the shore of Lake Ontario by generations of architects, the city is now the home of the Canadian National Tower, of an extraordinary subway system, of the Blue Jays and their SkyDome, of the Royal Ontario Museum. Today Toronto bristles with vitality, glitters with every fascination that architecture, planning, and cultural and intellectual life can give to a city. It has fallen into many of the characteristic mistakes of modern urban planning, yet it has also saved itself from the worst of them. This graceful narrative, moving from one part of Toronto to another, paints a portrait of the city, its recent history, its urban planning, and its economic growth.
---
"Toronto is one of the truly sparkling communities on our continent. This sparkling books tells how this has come about." -- J. K. Galbraith
"Fulford, the foremost cultural journalist in the country," exhibits "his eye for the significant anecdote and the telling quotation, his awareness of the broad social and cultural context, his sense of irony, his unerring ability to puncture myth and pretension, and above all the grace and wit of his prose." -- Philip Marchand, The Toronto Star
"A witty, incisive study in urban development." -- Publisher's Weekly
"Accidental City is a joy...not just for Torontonians but for anyone interested in modern city life." -- Quill & Quire
"A book that has taught me a lot about my town." -- Mayor Barbara Hall